The Latest News
Hey! We've got a shiny new website! Have a look around and let us know what you think on Twitter, Facebook, or via the new contact form.
Even more exciting: Prominence is entering its final beta stage! The dev team and our beloved beta testers are playing through the complete game with the goal of uncovering and squashing as many bugs as possible before the game releases. Wish us luck!
Also, be sure to join us each week for a new chapter of the Prominence Prologue, a collection of short stories and scenes that offer a glimpse into the back story of Prominence, including the characters, Letarri culture, and the colonization mission.
Story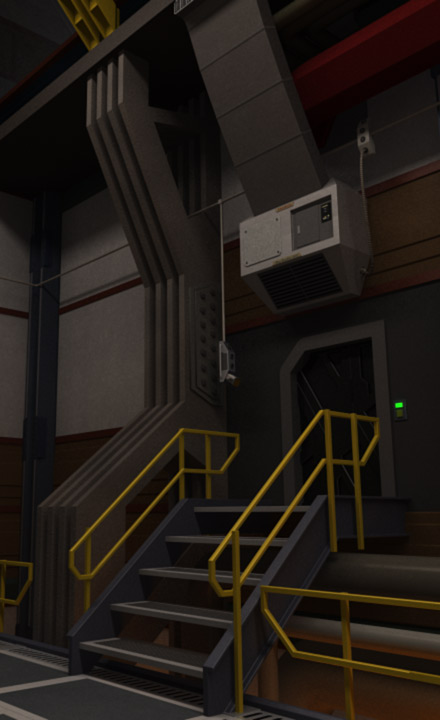 After living for generations as persecuted refugees, the Letarri people set their sights on a far-off planet as a promising new home. But when the interstellar mission to colonize the new world goes terribly awry, the fate of their people falls into the hands of a lone adventurer. Now it's up to you to unravel the mystery of what happened. Can you save them and their mission, or is it already too late?
Prominence is a first-person, point-and-click adventure game for the PC filled with puzzle-solving goodness, compelling character arcs, and an engaging story of hope and humanity in the best traditions of science-fiction.
Features
Solve challenging, yet logical, inventory and GUI puzzles that tie directly into the story.
Discover emails, voicemails, camera audio buffers, and environmental clues to reconstruct the events of the mission.
Hack computer subsystems via a retro-style text-based interface.
Acquire and use new skills as you progress through the adventure.
Explore the world through fully rendered HD environments with animated movement and effects.
Join forces with ANNIE, a damaged central computer in need of repairs.
Access data archives to unlock back story, environmental details, mission information, crewmember records, and more.
Original soundtrack with over 40 minutes of music.
Impressions from the Gaming Press
"Fans of Arthur C. Clarke's '2001: A Space Odyssey' should keep this adventure in mind."
- Adventure Corner
"..evolves methodically and soon draws you deep into the mystery behind the ill-fated mission."
- AdventureClassicGaming.com
"technically solid... densely atmospheric"
- Adventure-Treff.de
"...a very promising game."
- Gameboomers.com
"Prominence is an excellent example of what a small but dedicated developer can produce."
- GamingLives.com
"Sur une musique électro aérienne, des protubérances se forment à la surface d'une étoile, et explosent, feux d'artifice de l'hyperespace, dangereusement séduisants. Oui, ça me rend lyrique."
- Canard PC
System Requirements
Windows XP/Vista/7/8
2GB RAM
2.0 GHz or better processor (multi-core supported)
Open GL 2.0 compatible video chipset